Two Pathways, One Goal Strategy
In early September, a group from a cross section of roles and geographies across our business worked together with the leadership team to craft a new vision, purpose, and mission for the future.
Under our "Two Pathways, One Goal" strategy we will continue to drive value for our customers in the Hydrocarbons Solutions space, whilst taking steps to grow our Non-Hydrocarbons Solutions business for the future.
---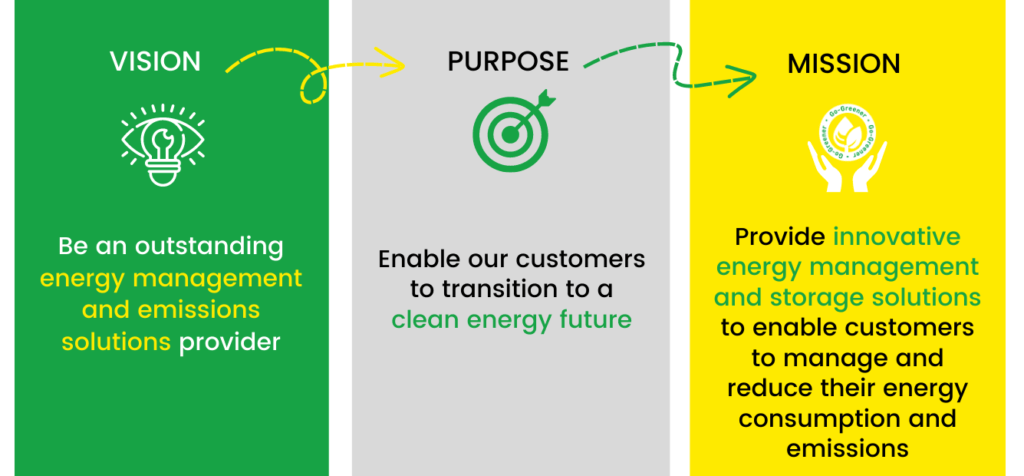 ---
With the price of diesel at an all-time high and demand outpacing supply, hydrocarbons management continues to be a key value driver for our customers. Maximising fuel efficiency, measurement, and quality through equipment size, location, filtration, and management systems assists our customers to use less product, minimise downtime and extend equipment life.
Through innovations in dispensing, fuel quality and bespoke consulting and reporting we are already working with our customers to assist them to mitigate, eliminate, and offset their carbon emissions as well as improve their energy costs. These together lead to lower cost, cleaner energy outcomes bringing benefits to our customer's balance sheets and ESG obligations.
---

---
Our vision to be an outstanding energy management and emissions solutions provider reflects our ambitions to enable our customers to transition to a cleaner energy future. With a wide range of technologies, fuels and energy sources being developed, Fuelfix will leverage its expertise to help customers mitigate emissions whilst building on our capabilities and services for the future.
Fuelfix is indeed well positioned for continued success. It has the benefit of good geographical spread of branches, modern and well-maintained equipment, great supply, and customer relationships, none of which we take for granted.
Above all, however, it is the team of people that is the true secret to its success. The knowledge and experience across our business puts us in pole position to drive innovation in hydrocarbon management for the benefit of our customers and our environment.
Over the coming months, we look forward to sharing examples of where Fuelfix's team of technicians and analysts have helped customers use less or displace diesel completely whilst maintaining productivity and efficiency across operations. Fuelfix is building a fleet of netZero energy options to support our customers to eliminate hydrocarbons where possible. This clearly aligns our products and services delivery with our "Two Pathways, One Goal" strategy.
We would welcome the chance to hear from other organisations about their journey towards a clean energy future and how we might find opportunities to collaborate towards better outcomes.