Self-Bunded Waste Oil Trailers: The Perfect On-Site Service Solution
The Fuelfix Self-Bunded 1,000L Waste Oil Trailer is the perfect solution for collecting waste oils from drums, tanks and other vessels. The stringent safety requirements of many work sites are met by the built-in safety features. And they can handle the toughest working environments. It is constructed to Australian standards and is fitted with a diesel-powered compressor (with electric start), diaphragm pump, a retractable hose and a suction spear – all mounted on a drip tray/bund. It has a waste oil hopper bolted to the inspection hatch. To add on to the safety features, the trailer comes with a 32L spill kit.
The salient features of this trailer include:
All steel construction
Marked dipstick (200L increments) with safe fill level
Road registered with all required signage and Ultraflex high vis reflective tape
LED combination taillights, number plate light and clearance lights
Dual axle design for extra strength, stability and excellent ground clearance but still with a low centre of gravity
Off-Road 245/75R16 tyres on 5 stud ROH 16" rims
Landcruiser hubs
One spare wheel mounted on the rear of the trailer
Wheel nut tension indicators
Mechanical over-ride disc brakes on the front axle with manual handbrake
Heavy-duty jockey wheel with swivel retraction for optimum ground clearance.
Heavy-duty 50mm tow hitch
1 x standard seven-pin trailer plug (round)
2 x safety chains with load rated shackles
50 mm (2") Dip point with cam-lock, cap and retainer chain
75mm (3") Fill point with cam-lock, cap and retainer chain
75mm (3") Breather point with cam-lock, cap and retainer chain
Safe fill: 1,000L; Weight (empty): 1,000kg; Weight (Full): 2,000 kg
Dimensions: 4,250 mm(L) x 1,800 mm (W) x 2,000 mm (H). The trailer height is measured to the top of the flashing light pole
Waste Oil Dispensing System
Electric start Yanmar diesel air compressor
1" pneumatic diaphragm pump
10-metre x 25mm diameter retractable hose reel with ball valve, suction spear and Camlock coupling
The four-way valve assembly to enable loading and out-loading using the same pumping system
Bunded front containment area under the pump housing further reduces any risk of accidental spillage going to ground
Emergency stop button with a lockable battery isolation switch
Clearly visible automated amber flashing light whilst in operation
Waste oil hopper top mounted on a trailer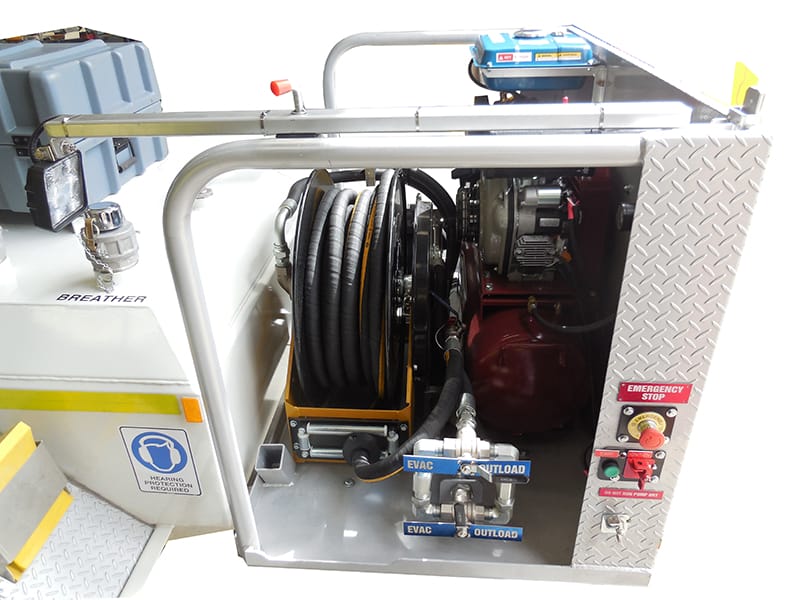 32L Spill Kit
The kit which is placed inside the top-mounted Space Case storage container includes the following:
2 x 1m sausage soaker to contain and absorb fuel spills
1 x pack of absorbent 300 x 300 pads
An absorbent powder which holds 11 times own weight
Protective gloves
Bags for contaminated material to allow safe disposal.
1 x 9kg dry powder fire extinguisher with mount and protector bag
2 x Wheel chocks
Download

 PDF Brochure
Call 1300 734 764 to learn how we can customise our diesel-powered or solar-powered self-bunded trailer for your requirement.
Or you can fill this form and one of our friendly staff will call you back.